We are thrilled to reveal the new animation for 'Nothing Grows'! Brought to life by animator and illustrator 
Sasha Balan
, her video explores the song's poetry and musical patterns. Seeds, mountains, willow trees and the inescapable passage of time all feature in Balan's poignant rendering of the lyrics by Irish poet Stephen Muldoon. Its release accompanies the launch of our 
2017 Summer Tour
 encompassing 10 concerts across England and France.
Here's some background on the song from our 'Far From The Tree' album booklet.
Travelling through Ireland in late summer we stopped off in Fermanagh, lake county, for a house concert in the kitchen of Maggie and Stephen Muldoon. Aside from being wonderful humans they are also lovers of music and words. This song grew from the kernel of Stephen's beautiful poetry, in particular, a set of five stanzas about growth and memory. Here's what he had to say:
I guess when I wrote the words the main thing I had in mind was that nothing happens in a vacuum. If you want something to happen you have to make it so and start somewhere, no matter how great the challenges seem to be. The words relate also to the lives and memory of a few of the good people that I was privileged to know, who may now be gone – in the physical sense anyway, but who made such a positive contribution to life when on this earth; nothing grows where nothing's been.
And here are the words which became the song:
'Nothing Grows'
Apple grows on apple tree
Mighty oak from bird dropped seed
Chestnut, conker, king of nine
Swinging pendulum piece of twine
Nothing grows where nothings been
Nothing grows where nothings been
Willow slipped, to multiply
woven basket, turf supply
Mountain, ash, rowan berry
Gone you, the flowering cherry
And nothing grows where nothings been
Nothing grows where nothings been
Seed, sapling, branch, the tree
life-cycle, legacy
Seed, sapling, branch, the tree
life-cycle, legacy
Nothing grows where nothings been
Nothing grows where nothings been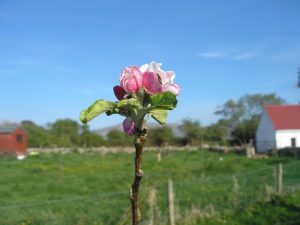 Apple blossom in Ireland – Photo by Stephen Muldoon