Folk trio TEYR evolved out of London's thriving session scene, combining bothy ballads, focsle shanties, folk tunes and Irish poetry. Their unique blend of voices and instruments draws links between the many sounds of the Celtic and British isles. Featuring close vocal harmonies, fiddle, uilleann pipes, guitar, low whistle and accordion, and influenced by the great folk musicians who've come before, TEYR ('3' in the Cornish language) have honed their craft and thrive on weaving their diverse threads together.
Their acclaimed debut release Far From The Tree is a distillation of two years of playing, writing and wrangling. Recorded with the assistance of celebrated producer Gerry Diver (Lisa Knapp, Sam Lee, Tom Robinson), the "Excellent debut album" (The Independent) blends originals and reworked ballads, displaying the full breadth of the trio's innovative and distinctive sound.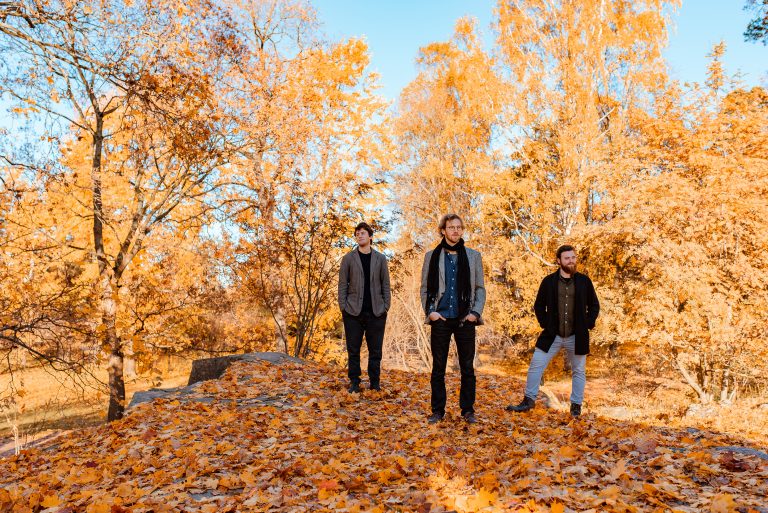 Described by Folk Radio UK as "High-energy brilliance", James Patrick Gavin, Dominic Henderson and Tommie Black-Roff are three of London's finest new breed of folk musician. After extensive touring in England, Scotland and Ireland, they look set to establish their name and unique musical mix on the world in the year to come.
fROOTS
Hugely impressive.
OZ HARDWICK, RnR MAGAZINE ★★★★★
There are countless bands following a similar path of British acoustic music, but now and again one stands out – TEYR is such a band.
MAVERICK ★★★★
With a debut like this, UK folk music is in good hands.
LIVING TRADITION
Deeply thoughtful and crafted. A dazzling range of skill.
[Full Review]
SONGLINES
Far from the tree it may be, but it is juicy fruit. The playing is exemplary, [they] mesh and merge beautifully.
FOLK RADIO UK
Boundless energy, imagination and instrumental expertise.
[Full Review]
THE INDEPENDENT
If you only see one thing today, see TEYR.
SAM LEE
Musicians of this dexterity, quality and charisma make post-trad ensemble TEYR one of the most playful and artful groups around.
GERRY DIVER
High octane folk drawing deeply from their combined heritage – three consummate musicians playing with verve, mystery, magic and a healthy dose of disrespect for pointy headed purism – one of London's finest trad groups in many a year.
TIM CARROLL, FOLKWORDS
A sparkling and iridescent display of accomplished musicianship. Among the best that folk has to offer.
[Full Review]
FATEA MAGAZINE
Far From The Tree is an album with a colourful, rich soundscape, where the faultless internal balance of the musicianship is expertly conveyed.
[Full Review]
LEE BLACKSTONE, ROOTS WORLD
Far From The Tree is a stunningly crafted release, the kind of music that builds on tradition with such care that it feels perfect. The group Teyr is essential listening.
[Full Review]
NORTHERN SKY MAGAZINE
Ten works of sculptural beauty that demand our attention.
[Full Review]
MICHAEL MOLL, FOLKWORLD
Top notch music of one of the greatest bands that has come out of the English scene in recent times.
[Full Review]
SEAN RAFFERTY, BBC RADIO 3
TEYR create wonderful worlds.
[Live Session]
Links
Facebook | Instagram | Youtube | Twitter | Bandcamp | Soundcloud
Band Members
Dominic Henderson | James Patrick Gavin | Tommie Black-Roff
Languages
Deutsch | Español | Français | Nederlands
Bookings & Press
Click to download:
Press Kit | Info Sheet | Tech Spec
Associated acts
James Patrick Gavin | Jez Hellard & The Djukella Orchestra