New album Estren out 30th April 2021
We are delighted to announce the release of our second studio album, Estren, recorded and produced by Ian Stephenson (Kan, Baltic Crossing, 422, Andy May Trio). As a continuation of our diverse sound, this album is packed full of original compositions and songs which tips its hat at the themes of travel, immigration and identity. The record also marks a new focus on raw live sound, interwoven vocals (including Cornish language) and a sweep of soundscapes.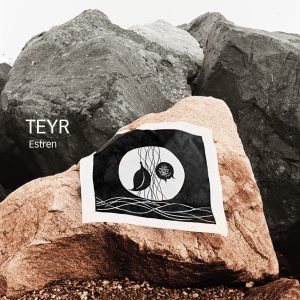 Buy the album!
The Story
In the autumn of 2017, TEYR entered a sabbatical. New business ventures, solo album releases and deep mind master courses would see them hibernating through that winter.
One year later, in October 2018, James and Dominic find themselves on a flight to Helsinki. After a long separation with their musical compatriot and initiate of Nordic life, Tommie, the three of them did what any sensible folk musician these days would do: they sat in a log cabin in the Finnish woods for five days, created music, sowed ideas, and relaxed in the sauna in the evenings.
Over the next year, there would be another Finnish trip of tune writing and arranging, filming in London and entering talks with Ian Stephenson (Kan, Baltic Crossing and 422) to take on the role of producer. In May 2020 we launched a Kickstarter campaign, raising an incredible £6,794 which helped us finish the remainder of the recording, design and manafacture the album, plus work with our stunning guest artists.
This album features a selection of musicians, hailing from different backgrounds, who have strong ties with TEYR. Within the tracks we see the likes of Abel Selaocoe (Kabantu, Chesaba), Ruth Corey (NYX Electronic Drone Choir), Alastair Caplin (Band of Burns, The Langan Band), Holly Harman (Twisted Twenty, Pennyfiddle Records), BBC R2 Folk Award Nominee Sid Goldsmith (Jimmy Aldridge & Sid Goldsmith, Awake Arise), Amy Jane Hosken (Rad Orchestra), Tad Sargent (Crossharbour, Matt Tighe & Tad Sargent), Flora Curzon (Fran & Flora, Gaia Duo), Hilary Coleman (Dalla) and Nina Harries (Akram Khan, London Electronic Orchestra).
Thank you for coming along with us this far. A special heartfelt thanks to our phenomenal Kickstarter backers who made all of this possible. We hope you enjoy the music. Stay safe during these extraordinary times, and we trust we'll see you on the road in the future.
To each and every one of you, thank you.
James, Dominic & Tommie