As the weather draws in and the winter months creep towards us, we prepare for a fond farewell to another enjoyable year of musicking, whilst looking ahead to future seasons and endeavours new. Read on for touring, James's solo debut and a London one off winter-warmer.
JEZ HELLARD UK TOUR
One such adventure on our doorstep is a small tour we will be playing with Jez Hellard and the Djukella Orchestra – a familiar figure to our fans and to the folk scene also.
Here are more details to get your teeth into: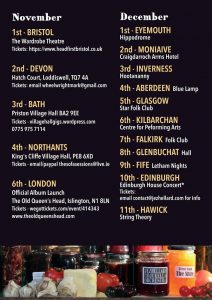 This is in aid of the release of the live album 'D'rect From The Shire'. This album features twelve of the best crafted of Jez's work captured live at various venues around the country, and pays homage to the Sofa Sessions (made possible by the great Rachael Chadwick) and to Jez's home turf of King's Cliffe, Northamptonshire.
The tour will move from west to east, moving through the idyllic west country before landing in London for its final night, at the Queen's Head on Essex Road. For the London climax, see full details and book tickets here:
https://www.wegottickets.com/event/414343
TEYR @ MAGIC GARDEN, LONDON 19/11
Later in November we will also be playing our last gig of the year at the Magic Garden pub in Battersea, on Sunday 19th. Home sweet home, almost! Details are on the event page here:
https://tinyurl.com/yd7ujfde
JAMES PATRICK GAVIN – CHEWING THE FAT
That's not all – in the new year our eyes will turn to our very own James Gavin and his album launch for 'Chewing The Fat', early bird tickets are still available for a limited time only. Plenty of noise has been made about this by ourselves (and other media acolytes of ours), and for good reason! James will be drawing upon the finest musicians he has played with in his career and will be a show not to be missed. So, get your tickets early, and prepare yourselves for a treat.
http://bit.ly/JPGavinChewingLaunch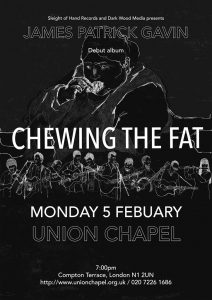 Summer 2018 is set to be a stonking season of travel and music as we prepare to unleash new sounds and songs upon the festival scene. We are as always taking suggestions for venues and festivals – if you have any in mind and want to let us know, please feel free to contact us directly.
We're really excited to be playing in front of all you wonderful people again, and do watch this space for announcements for gig dates and locations.
Onwards!
J, D & T x