We're on the road again, this time taking in the sights and sounds of more southerly climes. In the wake of 'Far From The Tree' we've been taking TEYR in some new directions, more improvisation, more fiddle and more diverse influences. We're itching to show you all some of the new tricks up our sleeves. So come find us at one our 10 concerts spread through England, France and of course, Cornwall.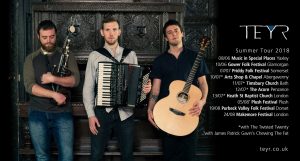 First up we're heading west to Gloucestershire and the Prema Arts Centre where we'll be playing in their concert space with its tasty acoustics. Then we head east and south, stopping at Faversham Nautical Festival before hopping across the channel. There's 4 concerts in France late this month; a house concert in Bourgogne, a Folk Forum 47 concert at Salle Jules Ferry in Lauzun, Lot-et-Garonne, a gig at Le Souleilla, Clermont in the Ariège foothills of the Pyrenees, and finally an open air performance in the courtyard of Maison Fermat, Beaumont de Lomagne in Tarn-et-Garonne.
In August you'll find us at Broadstairs Folk Week at the opening concert on Friday 11th with the mighty Dallahan and Faustus as well as the following day at a more subdued session. The following week we're giving our final London performance of the summer alongside songstress Martha Tilston at a beautiful new music space in Walthamstow, St Mary's Music Hall. Then we quit the city for our summer tour finale with two dates in the west, one in Tommie's hometown of Mousehole at the newly refurbished Solomon Browne Memorial Hall, and then at the best pub on the channel, the Square & Compass on the Isle of Purbeck.
More details of all our gigs can be found over on our gig page. Hope to see all your faces there!
Let the madness commence.