Autumn colours peak and then they fade, golden leaves wash the ground and the dark draws into the day. Winter is the time we retreat and look back on the year we've had.

What was promised to be an excellent summer of 'musicking' ended up exceeding all expectations and was a season full of new meetings, new festivals and new projects. 

Our first of many warm thanks go to all the folks at the Oundle International Festival, who helped kick-start our summer with a wonderful opportunity to play at St. Peter's Parish Church in Yaxley for their 'Music in Special Places' event. We got to stretch our fingers, dust off those cobwebs and even learn a bit of history! (Turns out Oliver Cromwell was in hot pursuit of some important people during the Civil War, and with the cunning use of fire and cannon, tried to oust those people hiding in this Church). That same weekend we got to view the gorgeous Gower peninsula at sunset during a performance at Gower Folk Festival.

Later in July we were lucky enough to return to Priddy Folk Festival after a couple of years elsewhere. Our main stage slot was an absolute highlight of the summer. Priddy is a festival we will always love, and Rachel Clarke has done such a fantastic job over the years. We want to offer our sincere gratitude for all the years she's looked after us in the Mendip Hills, and to offer her the best of luck in years to come.

In our previous mail-out, we mentioned that we were going to do a little four-day tour with none other than The Twisted Twenty. We don't often get to share the road with fellow musicians, so for us, it was a real treat! From Abergavenny to Cornwall and all the way back up to London, there were laughs, great food and great leggings! It wouldn't be a TEYR tour if there weren't some issues with Dominic's car also; so if you're lucky enough, we might even do it all over again in the future – watch this space!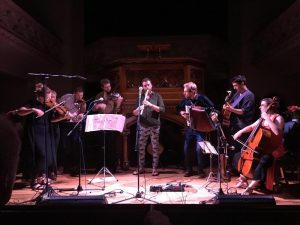 TEYR & T20 at Abergavenny's Artshop & Chapel. Dominic sporting the famous dinosaur leggings of the summer – his name shall be etched into the history books as the folk scene's trendiest piper!
If you haven't checked out The Twisted Twenty yet, MAKE SURE YOU DO!


[click here for all things twisted and divisible by the numbers 1, 2, 4, 5 and 10]


A New Folk Music Gathering

Beyond our gigging schedule there were two other rather special occasions for us this last year. First, we were able to participate in Tommie Black-Roff's new folk summer school, Crean Folk Camp. This exciting new project held its first gathering during June of 2018 and the TEYR three were there to lead tuition and set the ball rolling. We got to meet some fantastic people, and it was refreshing to be able to run our own workshops with our own ideas (we even got in some DIY practice with redecorating a barn, building our own compost loo, and having hours of fun on Tommie's motorised lawnmower!). The importance of keeping local culture and traditions is certainly not lost on us, especially the ability to bring it to others in an open and dynamic environment.


If you want to find out more about what the camp is all about, click here.
If you already know you want to attend, get ready to apply later next week as applications open on Saturday 19th January.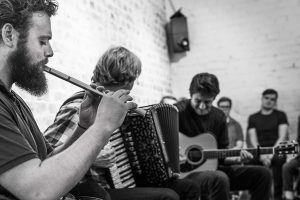 TEYR in Helsinki at Arkadia International Bookshop. Photo by Anna Mathews 
@manka.photos
New Material
Second, we went to Finland. And folks, guess what's new?
We are currently in the process of preparing a second album!
After months of organising timetables and schedules, we have just recently spent a week in October in Finnish lake country, and another back in London, writing and arranging new music. It may come as no surprise to say that we're all quite excited about this.
Already we have some classic groves from James, some roller coaster tunes from Tommie, and emotive melodies from Dominic – with songs and themes capturing the concerns with the modern world, we are hoping it will be an effective commentary, as well as a tonic.
James at CC!
Our very own James Patrick Gavinis heading to Celtic Connectionsnext weekend for a concert in the National Piping Centre in Glasgow. After his album launch last year at London's Union Chapel, it's fantastic to see James taking this up to the folk music biggest winter event. Not to be missed! You may even see some other familiar faces…
James Patrick Gavin Trio at National Piping Centre 19.02.19
Next Year
Plans are currently shaping up for summer 2019. If you have any suggestions on where we should play then drop us a message. We'd love to hear from you.
Finally we would also like to thank ALL OF YOU for making this past year and future projects a reality. As always, none of this would be possible without you guys taking such a keen interest in our work. To all the fans, musical fanatics, event organisers and hosts, have a wonderful beginning to 2019, and however you celebrated your yule, we hope it was warming and fulfilling!
Until our next adventure
T, D & J