We have news. Far From The Tree has been sent to the printers!
Mixing, mastering, artwork, design and manufacture; these are not regular staples of our folk music diet, and by jove have we had an education. Of course, we don't claim to be seasoned self-releasing professionals, but we do care about the music, which may explain why we've taken so much time to ensure the final product is as fully-formed and beautiful as possible.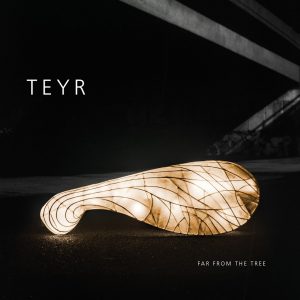 Final Design of CD Cover
Here's a little rundown of our movings and shakings over the last three months.
For the artwork we envisaged a photo of a Cornish lantern marooned someplace in the thick of our home city, London. For this we invited artist Billy Wynter to create a sculpture. His sycamore seed fashioned from whithies and papier-mâché finally made the trip up the A30 to London at the end of March. Once there we took it very far from the tree indeed, on a whistle stop tour of all the backstreets which held resonance to our band.
Over several nights we crept around parking lots, canal towpaths, abandoned railway lines, across heaths and under motorways. Our troop with its illuminated seed, dangling wires, heavy coats and photography equipment, resembled something halfway between a pagan procession and a hipster fashion shoot.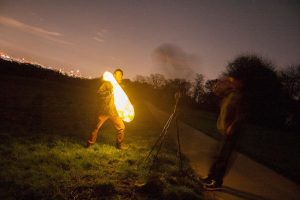 Getting the Right Angle
Good old chemical film photography was employed using the mother of all clunky cameras, a Hasselblad. What you see is what you get with these hunks of metal. Looking into its square viewfinder we immediately had the album cover in our sights.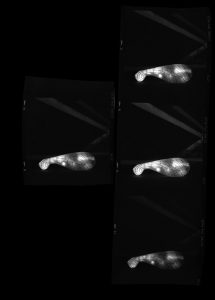 Good Old Film
In response to our album cover, Dominic's brother Sebastian Henderson created an artwork that echoed our lantern's golden glow. Sebastian's method, reducing his subject to painted squares, beautifully captured some of our love for simplicity. Here's a preview of his piece.
Sebastian Henderson's Squares
These works and the photography of several others was then assimilated by our wizard designer. Dan Biddulph stepped up to the plate and provided us with a sense of reason to our ramblings. So finally to press!
So finally to press! It's been emotional and we know the journey has only just begun. It feels like an age since Far From The Tree was funded, and what a different world we seem to exist in now. Though politics of fear seem to have won today, the world still sounds with the voices of many fine people making beautiful things. Hopefully we can all contribute to that.
See you on the road!
Much love J, D & T x